The world of mobile dog grooming, or even mobile pet grooming, has been growing steadily over the last few years as pet groomers have figured out that they no longer need the riggers of working at a brick and mortar dog grooming salon.  The following 5 Tips For Creating A Mobile Dog Grooming Website will help new mobile dog groomers create a successful business that will both impress their clientele and have a dog grooming website that works for them.
1) Stand out from the crowd with a professionally designed mobile dog grooming website
As competitive as mobile dog grooming is becoming, you need every edge you can get to differentiate yourself from the next pet groomer.  Most pet groomers will opt for being a weekend warrior and make a DIY website over the course of a few hours on a weekend.  Or, even worse, is a Fiverr website.  As you can guess, it will look, well, not great.  It would be the equivalent of taking pictures of your first ever dog groom and displaying those photos as the type of work you do now.  Obviously that is not a smart idea.  
Investing in a professionally designed website (before you even think about it…Squarespace & Wix are still DIY websites!) is one of the best things you can do to build a solid, professional reputation throughout your community.  Look for a website designer that understands the grooming industry and what your needs are.  It will go a long way towards creating a stunning pet grooming site that works for both you and your clients.
2) Wrap your Van/Trailer with your contact information
Your mobile grooming van or trailer will be one of your best marketing tools.  Not only will people see your contact information while you are driving to your next pet groom, the neighbors will notice your vehicle while you're performing the pet groom and may decide to contact you.  The more you can get eyes going to your website, the better!  Professional vehicle wraps are expensive but other advertising options like Google are WAY MORE EXPENSIVE in the long run.  Trust me on that one!  
3) Coordinate Your Vehicle Wrap and Your Website
If possible, coordinate the professional vehicle wrap with the same colors and imagery as your website.  Again, the idea is to create and portray professionalism.  You already have the ability to groom, now you need to use that same professionalism that you have with your craft to show everyone else that you are a pro!  A great professional mobile dog grooming website that coordinates with the vehicle wrap will really impress your customers.  Your business will stand out just like the pets you are grooming!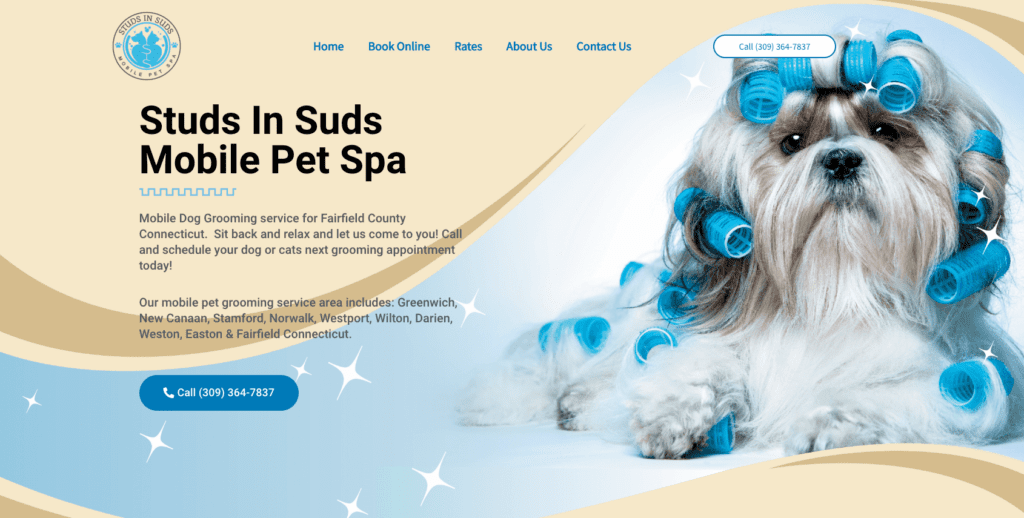 4) Create an Instagram account so you can show off your pet grooming skills!
A great way to prove you know how to professionally groom a dog or a cat is with proof!  Show your clients you know how to groom and build your repertoire.  Think of it this way, the more your customers know you can groom their pet the right way, the more you can raise your prices to obtain a level of clients that you actually want.  People will pay to have a PROFESSIONAL groom their precious animal because they already know what the outcome will be.  Therefore, your skills can warrant a higher price tag compared to other pet groomers who's skills are unseen. 
*An added bonus is pet owners love to see their pet on the internet!  Getting a social following is great in so many ways especially when pitching new pet grooming services when you already have an audience.
5) Get Your Google Reviews!
This is not just a suggestion!  One of the most important steps you need to get your business up and running correctly is to start getting your Google reviews and bring them directly into your website.  It is not only good for customer confidence, but it is also good for SEO (Search Engine Optimization).  Your pet grooming reviews are possibly the #1 decision factor for customer's looking to book you for mobile pet grooming service.  Having your Google reviews directly on your website allows the customer to trust you without having to go to any other page.  You want the customer to stay on your website!  

To create a professional mobile dog grooming website, you should;
Have your pet grooming van/trailer professionally wrapped
Coordinate the vehicle wrap with your website design
Create a business Instagram account to show off your pet grooming skills
Get Google reviews and import them to your pet grooming website
Springboard Website Designs of Meridian, Idaho can help you with your Mobile Dog Grooming Website.  Give us a call at 208-614-1590 or visit our Contact page for more information.  We have the experience you need to create a great, professional, mobile pet grooming website.