Feeling defeated about your small business advertising? Do you feel like there has got to be a better way to get your name out there?  There is a better way, and in just 10 minutes or less you can get on the right track IMMEDIATELY!
Drum roll please…..  Set up a Google My Business (GMB) account right now.  Do not wait (well,  read the rest of this article first).  I'm sure you want your business to be found on the #1 search engine in the world, right?  This is the ticket.  If you don't do this, you're missing out on the easiest conversion of potential customers possible.  When customers find you on GMB, it essentially costs you NOTHING!  In 10 minutes, you can set up your account and be on your way to capturing FREE customer leads.
Before you clink the link to GMB, you need the following:
A Gmail account that you will tie to your business

A way to verify your domain (don't worry, just follow their instructions)

Pictures (use good, high quality ones)

*Pictures cannot contain copyrighted images

*Generally cannot include graphics, however, you can take a picture of a computer showing your website (

I've actually done this and Google will reject your perfect graphic file JPEG but will be okay with a picture of that picture.  Go figure!

)

You will need to upload a jpeg of your logo

Make sure to include pictures of your actual business storefront if you have one (Google will likely use this as your cover photo regardless of what you choose)

If you do not have a storefront and only sell on the internet, take a picture of your website or product
Now I'm Ready To Get My Google My Business Page
Go to Google My Business and follow the prompts.  Make sure to enter:
Your store location

Hours

Phone Number

Email

Your business listing type (see below)
How Does This Help My Business?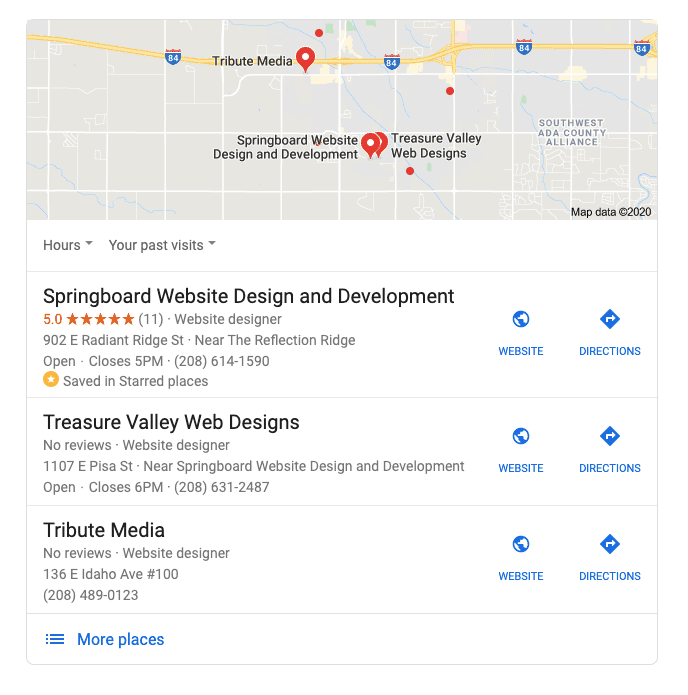 When someone Googles "Website Designer Near Me", Google will go out and fetch all the businesses in that category and location area and deliver to the user a '3 pack list' like the one shown above.  Google gets this information directly from the GMB listings that businesses create.  You should strive to have your business placed as high as possible on the 3 pack list.  There are strategies for getting to the top of the list but if you are not in the game with a Google My Business listing, you won't be able to even start.
Here is a tip for all of you that have made it down to this point on my blog post.  Include an animal in your GMB cover photo if possible. It sounds crazy but it works!  I kid you not. People are drawn to animal photos so why not place your logo in front of them and then take a picture!  It really does work. Here is an example: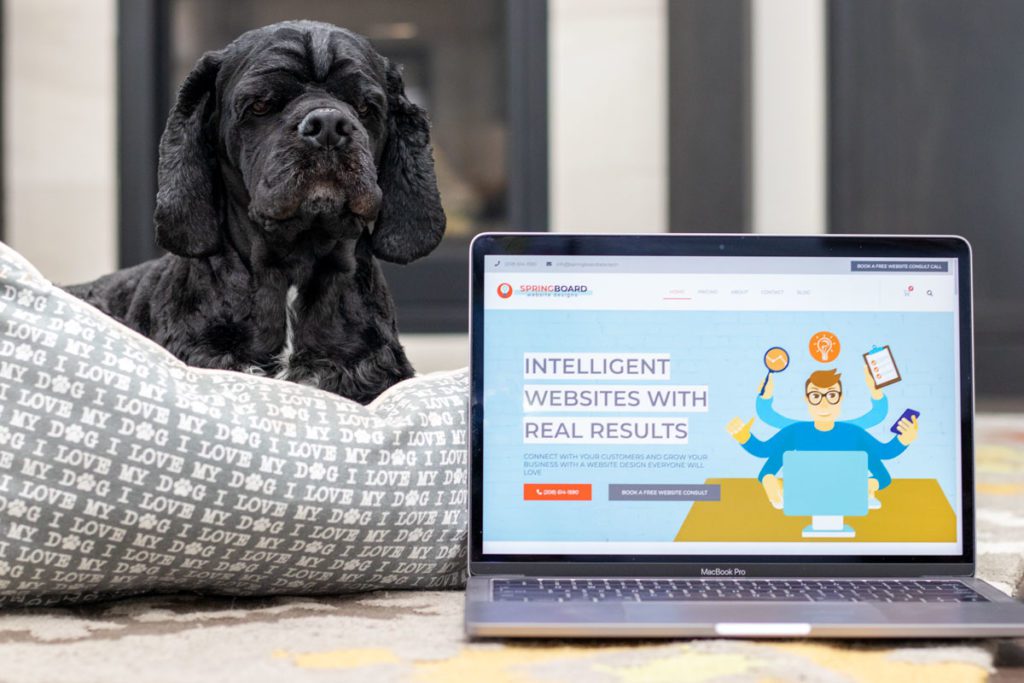 If you have any questions or need further assistance, just Google your questions (kidding!) or find me at Springboard Website Designs or call (208) 614-1590.